Today's post doesn't have a lot to do with databases. But it relates to a recent SQL Saturday. What follows is the summary of a two week adventure of training a Google Home Mini to become a hotel concierge.
SQLSaturday
I was lucky to receive a winning ticket at the raffle at the recent Albuquerque SQL Saturday on May 5th. Jamey Johnston stepped up like many other volunteers and presenters to donate a Google Home Mini[1] for the raffle. Ironically I had just been pricing them this month so I could give one to a hotel where I moonlight. I missed Jamey's session but I heard from a friend that he gave an amazing presentation.
The goal.
So, six of us work the front desk during the week at the hotel where I moonlight. Hospitality happens to be a good side gig in Santa Fe since the only work in town centers around government and tourism, there's not much tech work here. Hotel work is good because every day seems different and I enjoy the challege of helping guest's love their stay in Santa Fe and sharing people's travel stories with the same passion that I enjoy my own travels.
At the front desk we are asked many questions while multitasking with the telephone and the reservation systems. Many of the questions we answer follow a repeated theme: "How far is it to Denver?" "The Grand Canyon?" "Phoenix?" "How long will that take?" "What is the phone number for Tecolote?" "Enterprise Car Rental?" To be able to answer these questions simultaneously as we're clicking our way through the reservation systems is priceless.
With this goal in mind I set out over four weekend shifts to train the little gadget for concierge duties.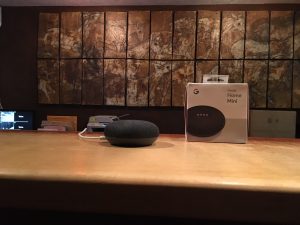 Continue reading "A Google Home Mini finds life as a Hotel Concierge."